Every second your consumers spend waiting in line can decrease their potential customer satisfaction. Research has shown that long checkout lines may be the number one cause of customer dissatisfaction when shopping, and it's one of the easiest things to improve about your establishment. Queue management systems can turn wait times of five minutes into a single minute or less in some establishments and increase your entire store's efficiency. 
As health and safety precautions remain a high priority, queue management systems allow you to ensure workplace well-being within your store. 
How to Reduce Queues in Shops With Queue Management Systems
Automatic queue management systems use real-time data and sensors to count the number of customers served in each queue and track how long they have been waiting. This system allows you to meet customer demand as quickly as possible and keep your lines clear. Explore the following benefits of adopting ways to reduce queue waiting times:
Reduce long lines: When your lines are shorter, you can serve more customers and encourage repeat visitors. This shortened waiting time leads to great sales and profitability — and even larger baskets at checkout. 
Better allocate employee resources: You can take better care of your staff and redeploy them to parts of the store where they're needed most. Doing this allows you to efficiently deploy personnel throughout the shop and ensure you never waste your employees' or customers' valuable time.
Increase customer satisfaction: Shorter lines increase customer satisfaction and make your customers more likely to revisit your store and purchase more items overall. By increasing your customer satisfaction rates, you can improve your business's reputation and popularity while improving your customer loyalty.
Eclipse Video Sensor
Video-based door sensors for retail stores, stadiums, casinos and other buildings with multiple and wide entryways with directional counts and customizable count zones.
Spectrum 3D People Counter Video Sensor
This overhead door sensor can distinguish between adults and children, people and inanimate objects and adults of different heights using advanced 3-D technology.
Gazelle Series Thermal Imaging People Counter
If you prefer an alternative to a video-based counting system, this thermal imaging counter provides accurate counting information without the need for video.
Enhance Staff Optimization With People Counting Systems 
Automated queue management systems allow your business to identify labor savings and increase customer loyalty with little upfront investment. The most efficient way to manage your queue systems is using people counting technology. These systems are highly customizable and come in many variations, including horizontal, overhead, wireless, wired, uni-directional and bi-directional. Regardless of what system you choose, automated queue management systems are hidden pieces of tech that quickly earn your business back its investment.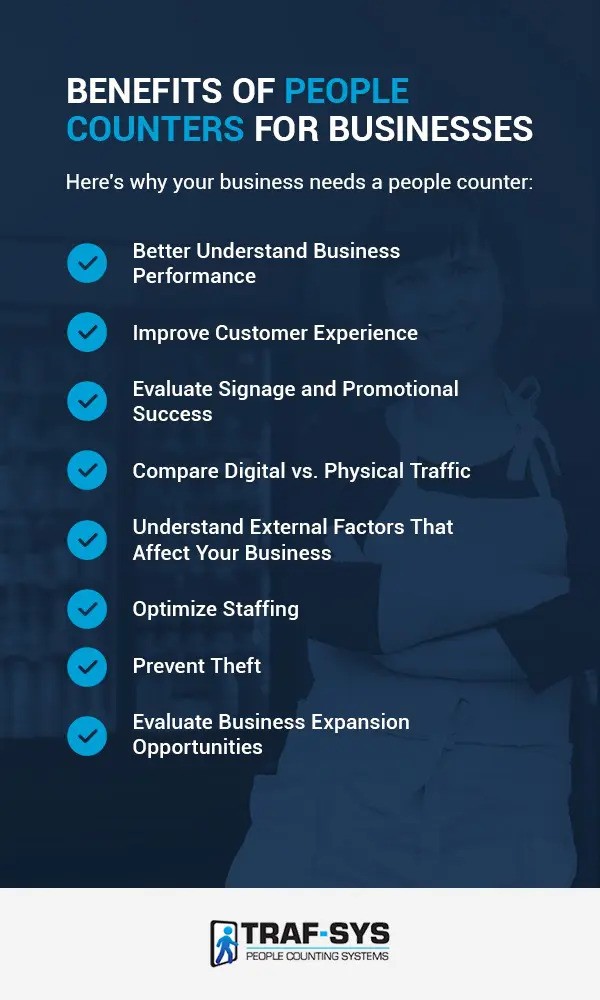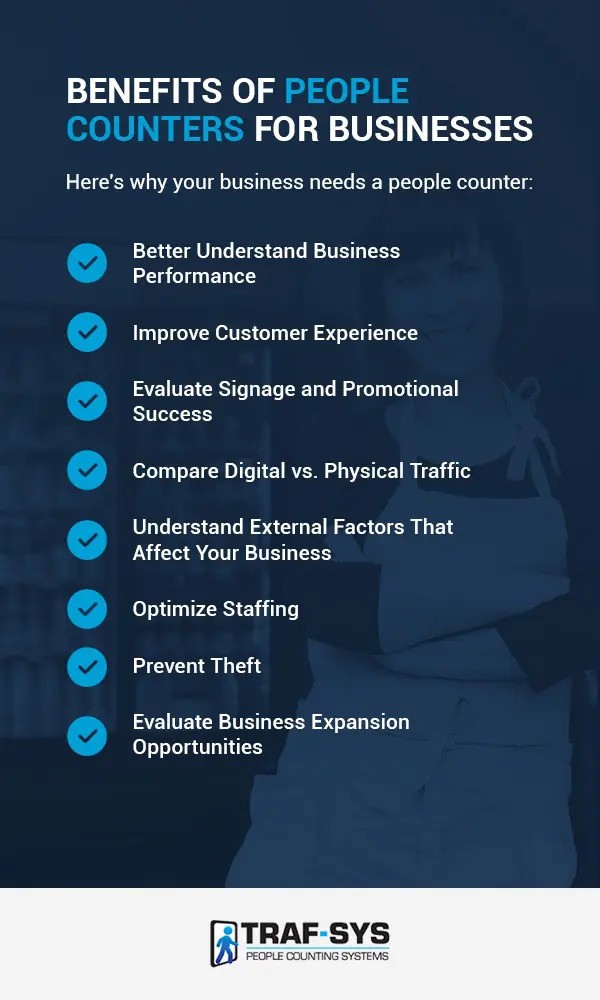 Automated Queue Management System From Traf-Sys
People counting automated queue management systems are ideal for companies such as grocers, clothing stores, hardware stores, theme parks and more. Depending on your business's size, you could potentially save millions of dollars annually by reducing your line sizes.
Automated Queue Management Technology From Traf-Sys
When you opt for queue management systems from Traf-Sys, you'll give your employees and customers back their valuable time while improving your business's bottom line. Queue management lets you increase your customer satisfaction, upgrade your employee resources and improve your business's reputation by simply decreasing customer wait times. In addition to queue management, Traf-Sys people counting technology can:
Automate your store's lighting and HVAC systems.
Increase your building's energy efficiency.
Help keep your store under maximum capacity.
Request a quote from Traf-Sys to learn how we can help you manage your queue and improve your bottom line today. 
Learn How People Counters Improve Queues
Reduce Queues With People Counting Technology
How To Improve Service With Customer Queues
Get a Free Quote
Find out how a people counting system from Traf-Sys can help your business today!